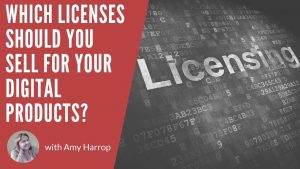 Printable products are easy to create and popular with a wide range of people from kids to adults. That said, you'll need to take steps to protect the original images you create and sell. The best way to do that is by including licensing information with each product.
Licensing is a complex topic that can be confusing, especially to people who are just starting to sell printables online. There are multiple license types to consider. The good news is that selling different types of licenses can help you increase your sales and profits. Here's what you need to know.
Why Do I Need to Include Licenses with Printable Products?
Let's start with why licenses are something you should think about. Printable products may be DIY, meaning that your customers print them on a home printer, or fulfilled, meaning that you integrate your printables shop with a professional printer. The latter option is typical for people who are selling specialty products, including greeting cards and fine art prints.
The license dictates how and when the customer can use the images they buy from you. You put in the labor to create the printables you sell, and that means if anybody else wants to sell them or use them in a way that generates money, they need to pay you for the privilege.
You don't need to include licensing information in your product listings, but I recommend it. It's a good way to earn some extra money and to ensure that your products don't get misused or used without permission.
What Are the Most Common Types of Licenses?
You have several options when it comes to licensing your digital products. Definitions can vary, but there are some general guidelines. Here are the most common options.
This is the most basic type of license and it limits the buyer to using the printables they purchase for their personal use. You should consider a personal license to be the bare minimum you offer. It won't preclude people from misusing your printables, but it may dissuade them.
The next step up is a commercial license. This type of license allows the buyer to use your image in clearly delineated ways. For example, they might be able to use the image in up to 100 products for resale and in their advertising but be prohibited from using the image on their website or software.
Extended commercial. The most comprehensive – and most expensive – license is an extended commercial license, which offers the buyer virtually unlimited use of the image they buy. That means they can use it for personal use, in products intended for resale, in advertising, and on their website and app. There may still be some limitations specified.
As you might expect, the licenses get more expensive as the uses of the digital product increase. You have the option to break these licenses down further. These are just general guidelines to keep in mind.
Which Licenses Should I Offer?
The decision of which licenses to sell is yours to make. Some sites where you can sell digital products, such as Creative Market, offer sellers licensing choices. These make the decision easy because the remove most of the guesswork.
I do recommend offering tiered licensing options for your digital products. Most people who are seeking images to use in products are willing to pay for them. They would rather invest some money in sourcing images they love than settle for subpar images or face the possibility of repercussions by using an image illegally.
Keep in mind that you can sell tiered licenses for individual products and bundles. The great part is that once you have created a digital product, your work is done. Even if you spent hours on an image, selling a single extended license can help you recoup your expenses. After that, everything you sell is profit.
How Much Should I Charge for Licensing?
One of the most common questions I get about licensing has to do with pricing. How much should you charge for the licenses you sell? How can you tell if you're charging too little – or too much?
The first thing I recommend is to research products like yours and see what the sellers are charging for licenses. Here's a general framework to consider.
Charge your basic product price for a personal use license. For example, if you're selling a bundle for $15, that should be the price for a personal license.
Charge between 1.5 and 2 times the price of a personal license for a basic commercial license. Using the above example, you could charge anywhere from $22 to $30 for a commercial license.
Charge between 8 and 10 times the price of a personal license for an extended commercial license. Using the above example, you could charge between $120 and $150 for an extended license.
You can see from this that the profits can add up quickly. You could add additional tiers. For example, you might charge $15 for a personal license, $20 for commercial use on up to 10 products for resale, $50 for up to 100 products, and so on.
What Do My Customers Need to Know about Licensing?
The final thing to consider is what you will tell your customers about licensing. If you're selling on a site such as Creative Market, you won't need to worry about it. You'll set your prices based on their license tiers and customers can read the specifics by clicking on the licensing link.
If you're selling licenses on your own, then you'll need to specify what is included and what isn't. Make sure to be specific and include the licensing information on the product page and in your confirmation email and thank you page. You want to make sure that the buyer understands how and where they may use your licensed image. You'll also need to specify if the images may be used without attribution.
Selling licenses for your printable products is a good way to earn extra money and protect your images from being used improperly.