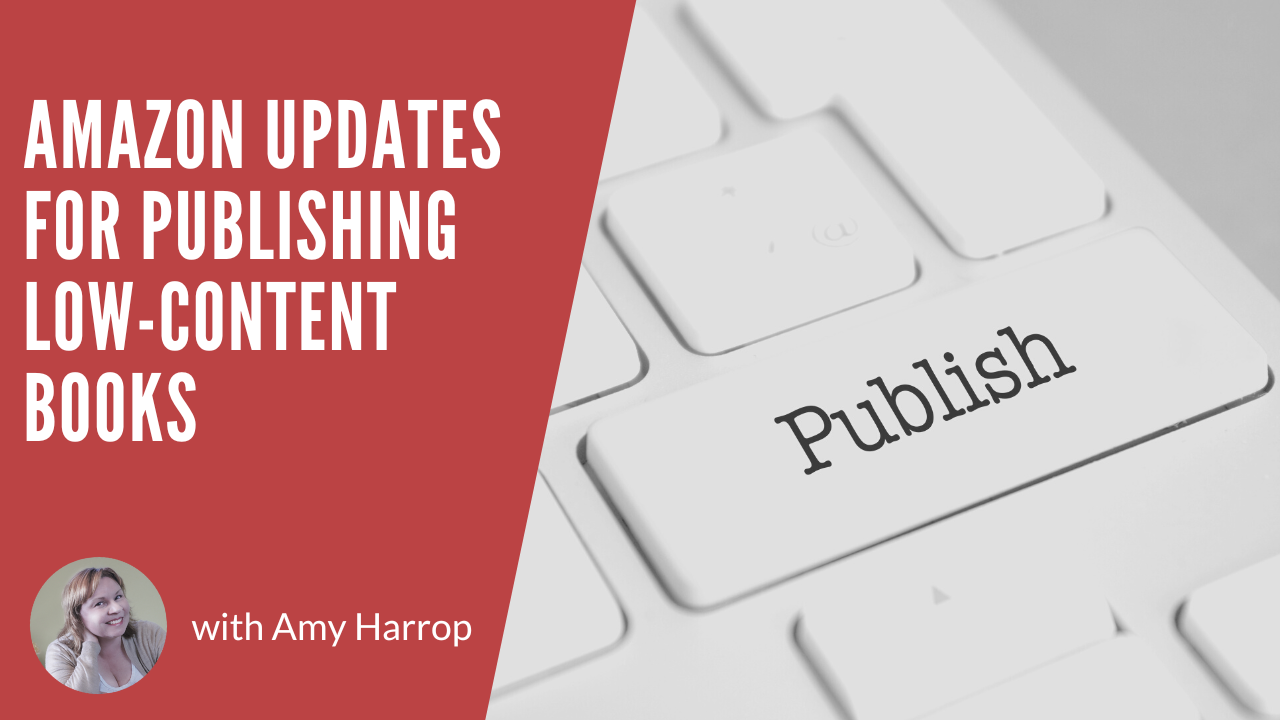 Amazon makes it easy for anybody to publish books ranging from memoirs to novels to low content books like coloring books, journals, and planners. The process is simple and affordable, but it's important to know the ins and outs before you start to avoid delays.
Amazon has made some changes to its low-content publishing process. In this post, I'll explain the changes and walk you through the new process to publish your next low-content book, which is one of the best ways I know to earn passive income.
ISBN Changes for Low-Content Books
The first change and the biggest one has to do with International Standard Book Numbers or ISBNs. The ISBN is a unique number used to identify a book. As of January 2007, ISBNs have 13 digits, and a new ISBN is necessary for each edition of the same book.
The updated Amazon KDP guidelines specifically mention low-content books, saying that they may be published with or without an ISBN. They are no longer providing a free ISBN for low-content books, so if you want an ISBN for your book, you must purchase one from the International ISBN Agency. You can find their website here.
We'll walk through the steps related to your ISBN choices in the next section.
How to Publish a Low-Content Book with Amazon KDP
The publishing process for a low-content book has not changed drastically but there are a few significant differences in the new process. To make it easy to understand them, here is a breakdown of the step-by-step process you'll need to follow to publish your next low-content book. You'll start the process by navigating to your Bookshelf.
Step #1: Choose Your Book Format
Your first decision is whether to publish in hardcover or paperback format. To decide, simply click the appropriate button next to Create Hardcover or Create Paperback.
Step #2: Enter Your Book Details
The next step is to enter the required information about your low-content book. Here's what you will need.
The title of your book.
A description of your book.
Keywords to help customers find your book.
In the Categories section under Book Details, you must now check the Low-content box. This is a new requirement. If you do not select this box for your low-content book or choose another box instead, Amazon KDP will reject your book and you'll need to resubmit it.
#3: Enter Your Paperback or Hardcover Content
This step is where you'll need an ISBN if you want to use one. Remember, Amazon will no longer provide a free ISBN for low-content books, but you do have the option to publish without one. The two options are as follows.
Use My Own ISBN
Publish Without an ISBN
It's in this section where you will upload the manuscript and cover files of your book. You should keep in mind that if you use your own ISBN, you can add your own barcode, too. If you choose to publish without an ISBN, Amazon will add a barcode. Here's what they say about barcode placement.
We'll place a barcode in a 2″ (50.8 mm) by 1.2″ (30.5 mm) white box in the lower right-hand corner of your book's back cover. If you leave images or text on this part of the cover, the barcode will cover them during printing, which could result in your file being rejected, so don't include any text or objects in this area.
You should also keep in mind that transparency codes are not available if you publish your low-content book without your own ISBN. If you want a transparency code, which is like a QR code and can be used to provide an interactive experience with your readers. If you want a transparency code, you'll need to purchase an ISBN.
You'll need to preview your book to make sure it looks the way you want it to look, and then order a proof to make your final review.
#4: Set Your Distribution Rights and Pricing
After you've ordered your proof, the next step is to choose the territories where you have distribution rights to your book. We will talk about distribution more in the next section. As of this writing, Expanded Distribution is not an option for low-content books.
You'll also need to set your list price. As a reminder, Amazon KDP offers 60% royalties for both hardcover and paperback low-content books. Printing costs are subtracted from your royalties. You can read the details about how printing costs are calculated here.
After entering your price and distribution information, you'll click either Publish Your Hardcover Book or Publish Your Paperback Book.
What Are the Differences Between Publishing with Your Own ISBN and Publishing without an ISBN?
There are two key things that impact low-content books, and both relate to your decision of whether to publish with or without an ISBN.
Look Inside feature. You know that Amazon offers a Look Inside feature to allow shoppers to get a peek at a book's contents before they buy it. As of 2022, Look Inside is not an option if you choose to publish your low-content book without an ISBN.
Transparency Code. As I mentioned above, it is not possible to print a transparency code next to your bar code if you publish without your own ISBN. Including a transparency code allows your readers to access additional content you provide and creates a more interactive experience.
I recommend buying an ISBN code because it gives you access to both Look Inside and a transparency code, both of which can help you sell more books. The Look Inside feature increases sales because customers can get a clear idea of what your book offers before they buy it. Transparency codes provide an interactive element to your book, something customers enjoy and appreciate.
Conclusion
Publishing low-content books with Amazon KDP is still easy and affordable. The changes I've outlined here illustrate the importance of buying your own ISBN to give you the best possible chance of your book becoming a bestseller.
Do you need help with your next low-content book? Click here to learn how to work with me directly!