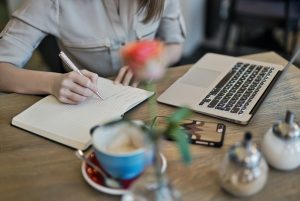 Content creation is time consuming and the truth is, it may be costing you more to do it yourself than it would to pay someone else to do it for you.
Surprised? I understand… but I also know that if you want to create reliable streams of income, you need to be realistic about how much your time is worth.
It's common for digital publishers to create their own content when they're starting out. As a new publisher, you might not have the budget to pay freelancers. But as you begin to make sales and build your publishing business, you might want to spend your time on other things.
If you're ready to get some content creation help, here are 5 ways to outsource your content creation.
#1: Consider the ROI of Your Content Creation
Cost is a big concern for anybody who's trying to earn money online, and it can be difficult to wrap your head around how outsourcing will impact your income unless you crunch the numbers. For that reason, I suggest calculating the ROI of your content creation.
The simplest ROI formula is to take the amount you spend on content and divide it by the amount you earn from it. So, if you spent $50 and earned $200, your ROI would be 400%. Of course, when you're creating your own content, your time must be factored into your calculation.
Let's look at an example. Say you created a blog post and monetized it with affiliate links and ads. When you calculate how much it cost you to create the post, you'll need to include the time it took you to:
Brainstorm and select a topic
Research
Draft the post
Edit the post
Optimize and publish the post
Depending on how quickly you work, it could potentially take days of your time to create. To calculate the ROI, you should assign a dollar value to your time and calculate the cost, then compare it to how much you earn from people clicking your links.
Then, compare it to the cost of hiring an experienced freelancer to create the post for you. In many cases, you'll end up with lower costs and a much higher ROI than you would if you created it yourself.
#2: Advertise Directly for Content Creators
Once you have decided which content you want to outsource, you'll need to find content creators to work for you. One way to do it is to put out a call for writers, designers, and other freelancers.
Craig's List is a good option if you want to be able to advertise for free. There are plenty of freelancers who review listings looking for work.
You could also advertise in a local newspaper or on a freelance writing board. The one potential issue might be getting enough content creators to see your ad, but this is a tactic that's worth trying.
#3: Use a Content Creation Platform for Outsourcing
If you don't like the idea of advertising directly, then you may want to consider setting up an account on a content creation platform instead. There are many to choose from. Here are a few to consider.
Upwork is a site where you can create a job and get a shortlist of freelancers who might be suited to do it. They charge freelancers a fee based on how much work they do for a client.
Guru is a good place to find experienced freelancers. Their fees are higher than other sites, but you can expect high-quality work from the content creators you'll find here.
DesignCrowd is the place to find talented designers, whether you're seeking someone to design a custom template or revamp your website.
There are other sites, such as Freelancer and Fiverr, which I don't recommend in most circumstances. While it is possible to find talented freelancers in both places, the prices tend to be low and you will get what you pay for.
#4: Create a Clear Set of Instructions
You'll have far better luck outsourcing your content creation if you can tell the freelancers you hire what you need from them. That doesn't mean you need to create a full style guide for your website, but it's a good idea to give serious thought to what you expect.
Some of the things to articulate include:
The level of formality you want in your writing. Anything you order should reflect your brand's message and personality.
The tone of the writing you want. Some brands like a little humor in their content, while others prefer a matter-of-fact tone.
Your size and format preferences for outsourced images and designs.
Your expectations of delivery and what will be included in the price you pay for content.
That last item is an important one. It's normal to expect some revisions, so you should assume the first version of the content is only a draft. That said, do not assume that a freelancer will do endless revisions for you. You should specific what you're paying for – for example, a draft, two rounds of edits, and a final polish – and be prepared to pay more if you expect additional work.
#5: Embrace Testing
It's unlikely that outsourcing your content creation will be something you get right from the first try. You should be prepared to try out multiple writers, designers, and other content creators before you find the team that works for you.
There's nothing wrong with testing out several writers. I also strongly recommend that you request writing or design samples and have a direct conversation (via phone or video conferencing) with the writer. I know people who have hired writers only to discover after the fact that they didn't write the samples they submitted. While this is rare, a quick chat will tell you how fluent the writer is in English and whether they can do a good job with your content.
Conclusion
Outsourcing content can be more affordable and far less time consuming than creating everything yourself. The five methods I've included here can help you determine which content to outsource to make the most of your resources.
Need help with content creation? Click here to check out my content creation products!